Regular price
Sale price
$8.00 USD
Unit price
per
Sale
Sold out
Paperless Eco-Friendly Reusable Gift Wrapping
Furoshiki are traditional Japanese wrapping cloths and make a perfect eco-friendly gift wrap. Their flexibility allows you to easily wrap various shapes and sizes.
Use just like wrapping paper but over and over!
Made with 100% cotton or linen in a variety of prints.
Size 20x20 inches
Made SK, Canada
Facts & Questions

 

       

HOW TO USE BEESWAX WRAPS?

Place the wrap around the food, storage container or bowl you wish to cover. The heat of your hands will activate the wrap and make it stick. For bags just load and fold over the top.



HOW DO WE CLEAN WRAPS?

Always use cold water and mild soap to clean your wraps and bags. Gently hand wash and allow to air dry.



HOW DO WE CLEAN OUR BAGS?

Bread bags should not need frequent washing if you are only storing breads. You can shake out the crumbs and wash as needed. To wash, fill your bag with cool water, some mild soap and rinse. Air dry over a bottle or glass on a tea towel or dish rack.

 


HOW DO OUR WRAPS KEEP FOOD FRESHER FOR LONGER?

Beeswax wraps allow your food to breathe instead of trapping gases like plastics.

 

WHAT CAN WE WRAP IN OUR WRAPS?

Most of your favorite foods! Cheese, fruits, breads, leftovers, sandwiches and so much more. Beeswax wraps are not suitable for wrapping fresh meat, chicken or fish.



HOW DO WE STORE OUR WRAPS?

Store in a drawer, a jar, basket or however you wish. Just remember to keep away from heat sources. No microwaves!



HOW LONG DO OUR WRAPS LAST FOR?

With the proper care, your wraps should last up to approximately one year. To prolong the life of your wraps, only wash your wraps in cold water with a mild soap.



WHAT ARE OUR WRAPS MADE OUT OF?

The wraps are made from 100% cotton which has been infused with natural beeswax, pine tree resin and jojoba oil.



CAN WE USE OUR WRAPS IN THE FREEZER?

Yes, you can! just be mindful that you let the wrap warm to room temperature prior to unwrapping.



WILL OUR WRAPS STAIN?

Beeswax wraps can stain. Heavily pigmented foods such as pasta sauce and mustard may stain the wraps. To reduce staining, always wash your wraps with a mild soap and cold water.



CAN OUR WRAPS BE USED IN THE MICROWAVE OR OVEN?

No, heat will melt the wraps.



WHAT DO WE DO WHEN THE WRAPS ARE AT THE END OF THEIR LIFE?

You can either purchase a

refresher bar

from our shop and refresh wraps yourself, put them in your home compost or even use them as a fire starter.

WILL OUR WRAPS LEAVE A RESIDUE?

New wraps may leave a residue on your container or glassware, however this is not harmful and can easily be removed with water and some soap.

Enjoy plastic free food storage!



How to rewax your beeswax wraps:


Oven method:

Place wrap on top of a piece of grease proof paper.
Grate your beeswax block onto the wrap generously.
Place on an oven tray, then put into the oven at a low heat. Keep an eye on them (do not leave unattended) - after a few minutes check on them, the wax will have melted and distributed evenly. If it hasn't melted, place back in oven.
Peel off grease proof paper and repeat on other side. 

Iron method

Place wrap on top of a piece of grease proof paper.
Grate your beeswax block onto the wrap generously. 
Place another piece of grease proof paper over the top of the wrap.
Run a hot iron over the top of the grease proof paper, a few seconds in each area of the wrap.
Repeat the process on the other side.
Peel the grease proof paper off and leave to dry.
Shipping & Returns

Processing Times

Orders are usually processed within 1-3 business days. Fulfilment of orders are weekdays only. Delays in processing can occur during sales and holidays.

Shipping Rates

Shipping rates are calculated at checkout based on your location and chosen method of shipping. Times of delivery are estimates and can vary. Free shipping promotions are before tax.

Confirmation and Tracking

You will receive a shipping confirmation email when your order has been fulfilled. If you selected a form of shipping that includes tracking, this information will be sent in your shipping confirmation email. Once you receive this email, please allow 24 hours for tracking information to be processed by the carrier.

Customs

Prairie Bee Wraps is not responsible for any customs and/or taxes applied to your order. All fees incurred during of after the shipping are the responsibility of the customer.

Packaging

Our packages are sent in paper envelopes or repurposed cardboard boxes when possible.  We do our best not to use plastic in the shipping process and give the best rates that we can! 

 *Please make sure to check that your address is correct. Please get in touch with us immediately if you need changes to be made. 

Damaged Packages

Please contact the shipment carrier or email Prairie Bee to file a claim if your order is damaged or lost. Be sure to save all packaging material and damaged goods before filing a claim.

Returns

We want you to be happy with your purchase.  Unused products can be returned within 2 weeks after receiving your order.  We will issue a full refund less shipping which will be at the customers expense.  Please contact us if there is a problem with your order and we will gladly work with you to find a solution.

 

 

 
Wrap Sizes

Small 8" wrap is perfect for small bowls, avocado, veggie bits.

Medium 10" wrap works great for cheese, herbs, fruits, veggies.

Large 13" wrap is the right size for sandwiches, plates, greens, melons.

XL 18 x 20" our biggest wrap and is ideal for big bowls, pans, breads and bulkier items.
About Us

                      

       

Welcome! We're so glad you found us.

My name is Melissa, founder and creator here at Prairie Bee Wraps. We are a small family run business, located in rural SK, Canada. We love to keep life simple, minimal and as back to basics as we can. Living many years on an acreage has given us a love for the land around us and a desire to preserve it's beauty and function. 


Here at Prairie Bee (formerly Prairie Minimalist) we specialize in handmade beeswax food wraps and bags. All of our wraps are handmade in small batches to bring you a top quality, long lasting product. Our food wraps are made with 100% natural ingredients. We use local SK beeswax, sustainably harvested pine resin and jojoba oil.

Beeswax wraps are washable, reusable, biodegradable and keep food fresh longer. They are an easy to use, practical alternative to plastic wrap and bags. Perfect for wrapping up cheese, leftover fruits, vegetables, breads and so much more. Each wrap can be used for up to one year and then either be composted or re-waxed to extend it's life. Nature's perfect food wrap!

      

 

 Thanks for stopping by. Please feel free to get in touch with us if you have any questions. We love to  hear what you have to say!

 
View full details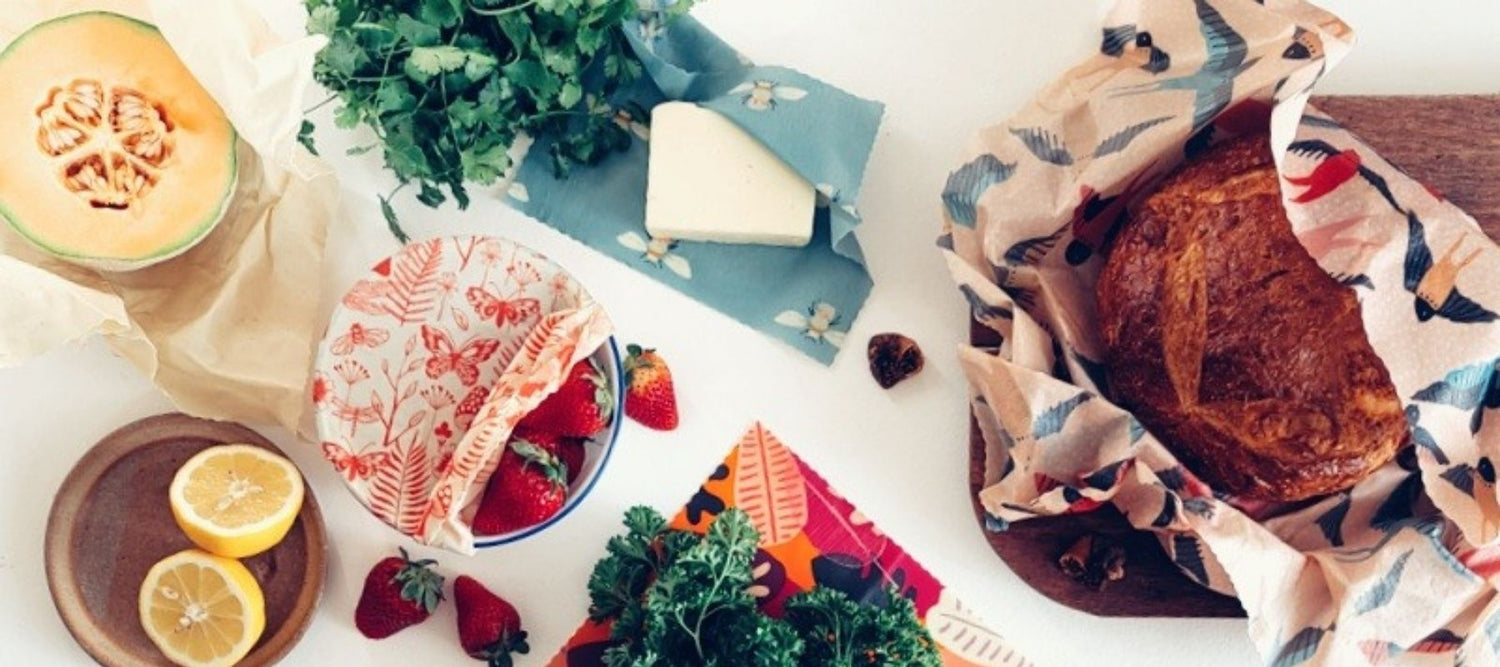 Watch food stay fresh longer than ever before!
Wrap up cheese, fruits, breads, leftovers and so much more. Just use the heat of your hands to mold around food or dish. When you're done, hand wash and reuse for up to one year!
Free Tracked Shipping over $99

Skip the plastic

Did you know that the average person uses around 350 plastic bags and over 2000 square feet of plastic wrap each year. Beeswax wraps keep all the convenience without all the waste.